The new high-end tablet from Sony: the Xperia Z2 Tablet
The new high-end tablet from Sony: the Xperia Z2 Tablet
During the Mobile World Congress in Barcelona, Sony introduced a new high-end tablet, the Xperia Z2 Tablet. In Sony's words, it is the finest and lighter waterproof tablet of the world.
This new tablet has the same processor as the smartphone Xperia Z2, a Qualcomm Snapdragon 801 running at 2.26 GHz. It also has 3 GB of RAM and 16 or 32GB of internal memory, expandable with microSD card.
The screen is a 10.1-inch Live Color LED Display, with a resolution of 1920 x 1080 pixeles. In amazing resolution, but is sharp and clear, offers very natural colors and looks great from all angles. It is a good compromise between resolution and battery consumption, and it will probably endure a full day of work, thanks to its 6000 mAh battery.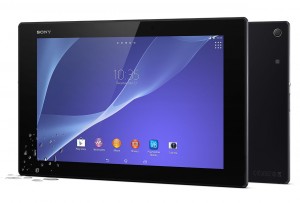 The camera is not the 20.7 MB of the smartphone Xperia Z2,which is one of the best on the market. Instead, it features an 8.1 MP, a decent resolution for a tablet. It also includes a front 2 MP camera.
The Xperia Z2 Tablet, like the Z2 smartphone, has a digital noise cancellation system that eliminates up to 98% of ambient noise. The four 3D surround speakers and the ClearAudio+ features promises an evolving sound experience.
However, the most remarkable aspect is definitely its size. Despite the considerable battery, the tablet has a thickness of 6.4 mm and a weight of 425 gr (the Wi-Fi version). It is also waterproof and dustproof, with an IP55/IP58 rating. The tablet works with Android 4.4 and the custom interface typical of Sony. It works with Android 4.4 and the custom interface typical of Sony.
The Z2 Xperia Tablet will be available in the market on March. The price will range between €499 (for the 16GB model), €549 (for the 32GB model) and €600 for the LTE model.
More information at SonyMobile.