Minix NEO X8-H Plus Announced
Minix, the famous Android Media Player manufacturer, known for their good quality products with a large fanbase behind, has finally updated their most successful model, Minix NEO X8-H, which hits a great success in the market, with the new Minix NEO X8-H Plus, sold by Geekbuying for only $159.9, a TV box (multimedia player) for any kind of room because of its powerful hardware more than enough to allow playback of 4K content in addition to playing the most graphically advanced games that we can find on Play Store. This new model is more compact and is accompanied by a peripheral.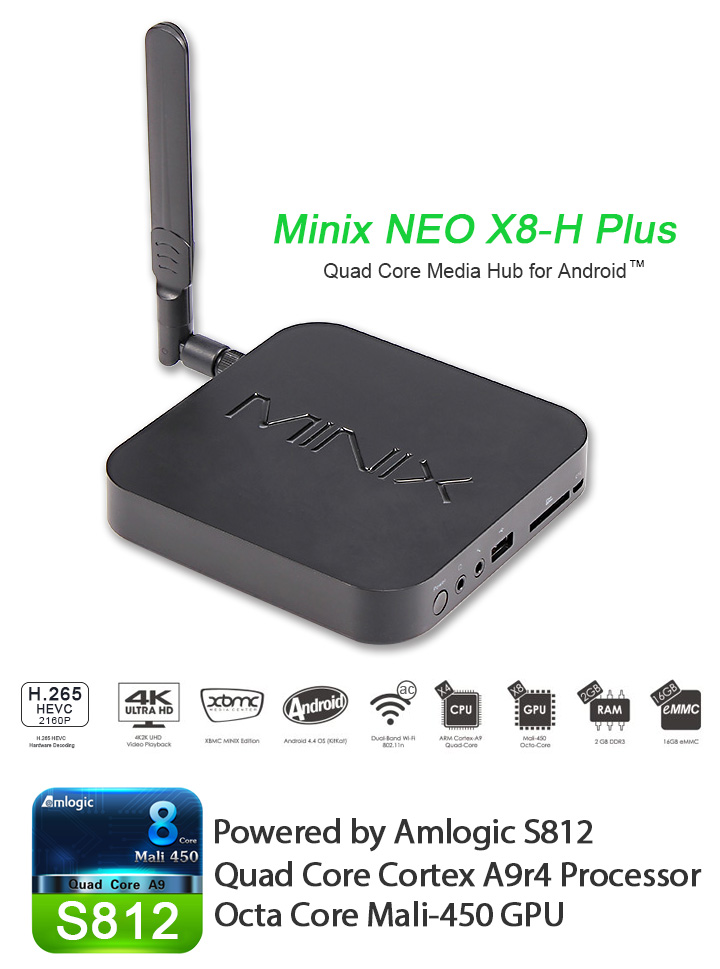 The new Minix NEO X8-H Plus will come with a Quad-Core Cortex A9r4 processor, and Octa-Core Mali-450 GPU. We discover the existence of the new Mini PC thanks to the online store Geekbuying, that bring us a special promotion with a lot of free gifts and only for $159.9 (and a surprise: they will randomly choose one from the orders placed in the first three days and give 100% cash back). It features some specifications such as 2 GB RAM, AirMouse Minix M1 controller, all included in the price (in addition to the standard IR remote control).
Minix updates its Mini PC Android by enhancing the CPU and adding useful features for media playback. The new Minix NEO X8-H Plus moves from a CPU S802 to the more modern AMLogic S812 chip, and this allows us to put the H.265 playback into its technical background. Other features include the Android OS, 4.4.2 KitKat version, XBMC Minix Edition (Gotham) to offer an intuitive interface when playing any video format, audio and photo, WiFi connectivity is 802.11 b / g / n, supports Gigabit Ethernet and WiFi Dual Band BC and comes with an external antenna that can operate in the following frequency ranges: from 2.4 to 5.8 GHz, for high stability and speed of data transfer, Bluetooth 4.0, OTG (for example, to add an external hard drive up to 2 TB), SPDIF optical audio output, three USB 2.0 ports, a display output as HDMI 1.4b, integrated microphone, two outputs headphone jack and it is powered by an external transformer to an input of 5v.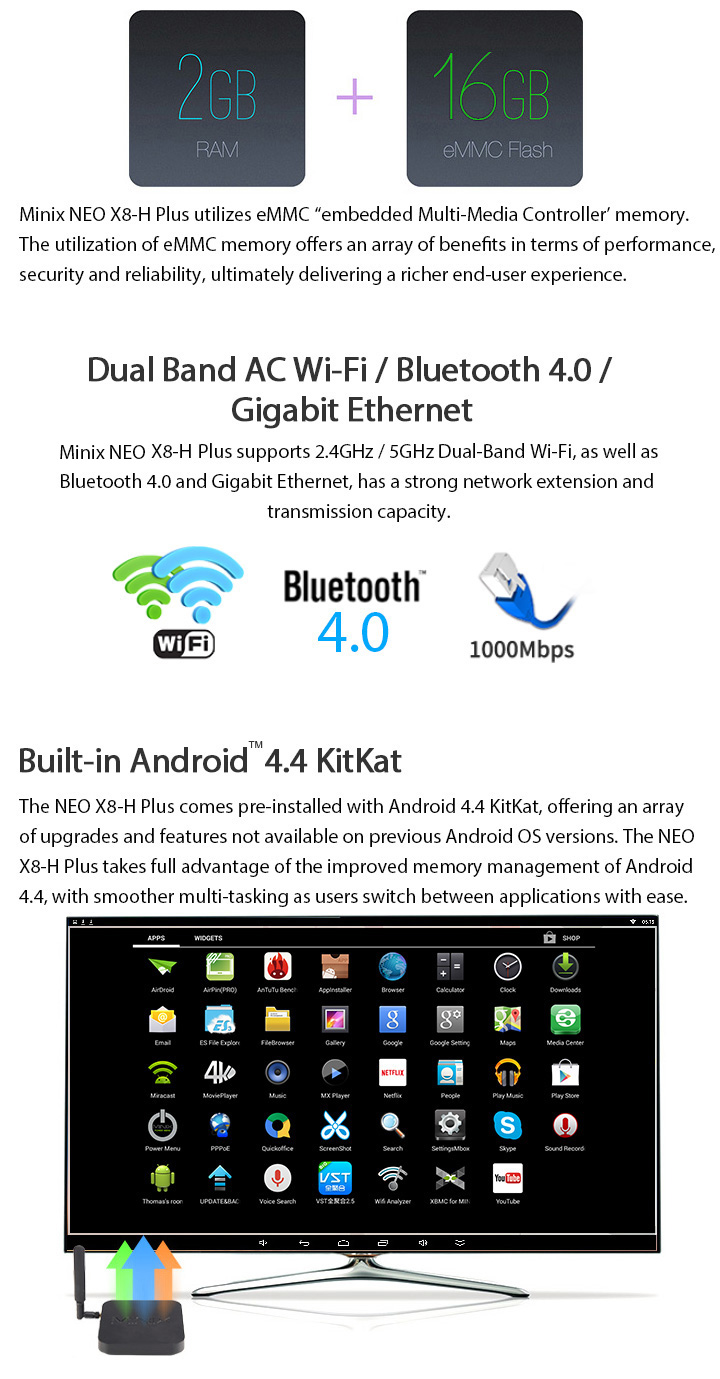 The Minix NEO X8-H Plus is thus a perfect choice to display content Full HD, 2K and 4K, in your room besides being able to browse the Internet or play any game available for Android. The Minix NEO X8-H Plus is accompanied by a remote control and a wireless mouse as controls to navigate with ease through its interface.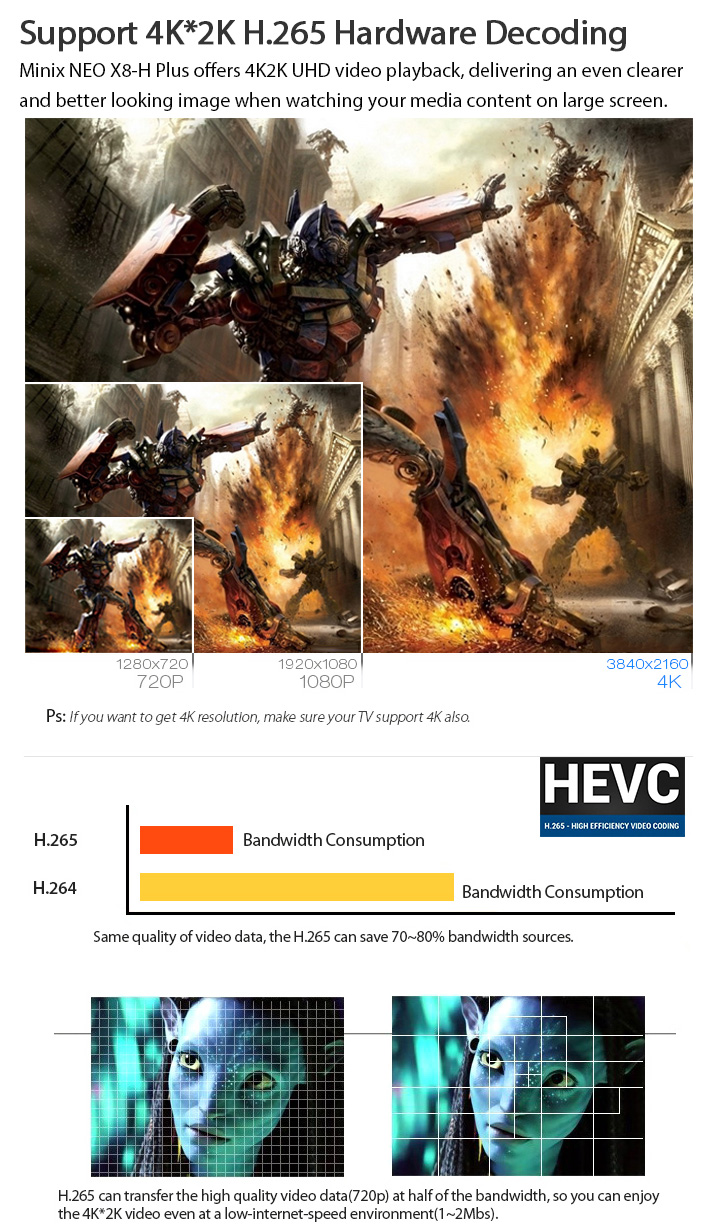 With a size of 12.7 x 12.7 x 2 cm thick and weighing 0.290 grams, the Minix NEO X8-H Plus hides inside the (above-mentioned) AMLogic S812 SoC, and 16 GB of internal storage expandable to an additional 32 GB via an SD card. AMLogic S812 is a processor with a maximum frequency of 1.8 GHz, meaning a great device to a cheap price.