Meta, the smart watch with style from Metawatch
Meta, the smart watch with style from Metawatch
Last year, Metawatch introduced two smartwatch models, the Strata and Frame Metawatch. The company, founded in the aftermath of a successful Kickstarter campaign in 2012, released last year these two models, not quite achieving the expected success.
One of the main criticisms they received were referred to their design and construction. As in other branded smart watches, a watch with that size made of plastic was not attractive enough to justify the considerable amount of money needed to purchase it. Aware of this fact, Meta Watch Ltd. has released a new Premium model.
The Meta has been designed by Frank Nuovo, known to have worked for Vertu and Nokia. It has been built with a metal case and leather strap. It is more comfortable to use than many conventional watches and there are a variety of leather straps available, ensuring a high degree of customization.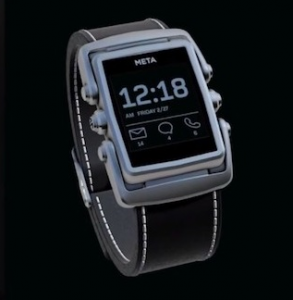 The most notable change, however, is the screen. The Meta carries an e-ink screen, similar to the Pebble's, which ensures a good contrast in all environments, including full sunlight.
The Meta, like their predecessors Frame and Strata is a smart watch focused on displaying notifications. Both models connected with your smartphone via Bluetooth and allowed to see the incoming calls, messages and other notifications. The screen could display different widgets that allow us to configure it to match our needs and they could also control the music of our smart phone from the watch.
There is no definitive information regarding the full capabilities of the Meta yet, but probably it will also be compatible with iOS and Android, as the previous models were. Neither is it known its final price, although it's expected to be higher than the Strata and Frame, which were priced between $ 99 (Strata) and 129 (Frame). The Meta smart watch will be available this spring.
Source: TheVerge.