Meizu MX3 available with 128 GB of storage
Meizu MX3 available with 128 GB of storage
Most of the high end phones available on the market today have 32 GB of storage as the larger option. Meizu has decided to increase that space up to 128 GB of internal memory. This is the world's first smartphone to ever feature that much internal storage, and its and impressive improvement. Meizu MX3 with its maximum capacity is now available for the Chinese equivalent to $700. The bad news is that it only runs on China Mobile's network. If you want to use it outside China, you need to run it on any GSM 2G network, not a really good option.
The Meizu MX3 was designed to be the flagship smartphone of the company, and have quite impressive specifications. It has a 5.1 inches IPS display with 1800 x 1080 pixels (415 ppi and an aspect ratio of 15:9) and it's powered by the same Samsung Exynos 5410 Octa SoC present in the Samsung Galaxy S4. The MX3 has 2 GB of RAM and a variable internal storage between 16 GB and all the way up to 128 GB.
This Meizu's smartphone has a pretty good 8 MP rear camera with Sony sensor and a 2 MP front one. The lens at the back is protected by sapphire glass and the device has included a Fujitsu ISP software. The battery is a 2400 mAh form Sony and it runs Android 4.2. However, the device is rather thick: 139.9×71.9×9.1mm and weigh 143 g.
Along with all these impressive features, the Meizu MX3also has a Wolfson audio chip, which provides some interesting goodies like ambient noise cancellation and audio amplifiers. Finally, another interesting piece of hardware is the patented antenna tech. The company says that is better that the one found in the iPhone 5, offering things like improved reception.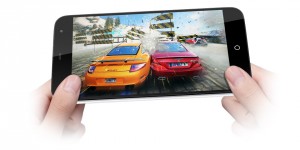 Source: PhoneArena.
.