Material Design in the new Nova Launcher 4.0
Customization is one of the greatest strengths of Android. Thanks to the freedom granted, everyone can personalize their device to their liking with applications that help them find their way. Often, Google publishes design guidelines that are useful for some developers, giving them the possibility to opt for official designs, also full of improvements.
It was that time when Holo was something similar to Lollipop in terms of design, when Nova and a lot of different launchers followed that line of design. Now, Nova Launcher 4.0 gets a dose of Material Design, being one of the most famous launchers, quite popular due to its fluidity and features a design line as Google recommended.
With the arrival of Lollipop and Material Design, Nova began a series of beta versions to design their launcher in a fluid way to the new Google design guidelines, but not until the day of today we can enjoy the Material Design desktop.
Nova Launcher 4.0 is official, and it comes with more than Material Design. Among the improvements it brings: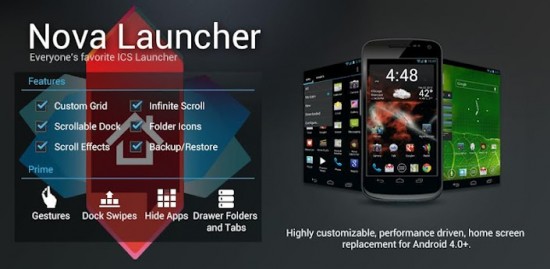 Material Design in each setting text box More animation We can tint shortcuts based on the icon color New icons New wallpapers Based on Launcher 3 (native launcher on Android 5.0 AOSP) Customizing for each icon size independently The maximum size of the icon can be expanded up to 150% Search for widgets Top-down gesture enables search New drawer widgets Support for Android for Work Requires Android 4.1 or more
Nova launcher is available in Google Play for free to devices with Android 4.0 or higher, while if we want to enjoy Material Design, need Android 4.1 or higher. Furthermore. purchase the paid version, Nova Launcher Prime can access more transitions, gestures and some extras.
Material Design in the new Nova Launcher 4.0