Little Big Adventure has come to mobile devices
Little Big Adventure has come to mobile devices
Games of the 90s had a very particular aesthetic, a special charm, which has not completely disappeared over the years. These days, it is not uncommon that a game appeared over 20 years ago was released now for mobile devices.
Little Big Adventure is a classic adventure game where we move in a three-dimensional space represented with an isometric perspective. We play Twinsen's character, a young hero who tries to save his world from the destruction he saw in a vision.
As a result of the vision, he is trapped in an insane asylum, where he will have to escape using all the skills and strategies at his fingertips. He'll have to solve puzzles, interact with other characters and find his way out to save his world from the foreseen destruction.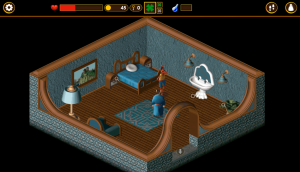 The touch control is very simple. When you tap a point on the screen, our hero will go to that point in a straight line, no matter what's in between. Clicking on the other characters, he interacts with them.
The controls are easy, but the movement s are not so. The isometric perspective makes somewhat difficult to move him, so to compensate a bit, Little Big Adventure has some tutorials at the beginning of the game that will help us a bit to start our adventure.
The story will engage us quickly, and it is available in several languages. The texts are available in English, French, German, Italian and Spanish, while the voice is only offered in English, French and German.
Little Big Adventure is available for iOS and Android for $3.99. You can download it from the App Store and Google Play respectively.
Source: 148apps.