The LG G Pro 2 is official
The LG G Pro 2 is official
A few days before the mobile technology conference in Barcelona, MWC2014, and all the companies are reserving their greatest developments for that event.
However, LG has decided not to wait, and has decoupled itself from its competitors by presenting the new company's flagship device, the LG G Pro 2. At an event in Korea, LG has officially announced its new high-end smartphone.
After weeks of rumors, we have the official specifications of this new device. As expected, it incorporates a wide screen, larger than its predecessor. The LG G 2 Pro has a screen of 5.9 inch high resolution (1920×1080 pixels), with tight margins that make the display occupy almost the entire front screen.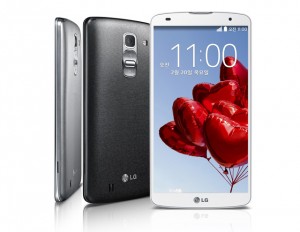 The processor is one of the bests available on the market. This device features a quad-core Qualcomm Snapdragon 800 processor, with 2.26 GHz and 3 GB of RAM. The company has released two models, with 16 and 32 GB of internal memory, both options with microSD slot.
It also offers a significant improvement in the sound, since according to the company announcement, this model is able to deliver 30% more volume than the G Pro; and the battery is removable, which is starting to be unusual, with a power of 3200 mAh.
The camera is one of its strengths. With a 13 MP sensor, it includes optical image stabilizer (OIS +) with anti-shake function. The sensor and the lenses are larger and more sensitive, designed to work in low light or moving conditions. In addition, you can record 4K video, to be played on a 4K TVs, and slow motion videos, acquired at 120 fps HD, where you can chose between three different speeds.
Find more information at the LG's press release.