Kraios has brought the design to smart watches
Kraios has brought the design to smart watches
One of the biggest criticisms that raise the smart watches is their design. Many of the ones that can be found today in the market looked like coming out from science fiction films (or directly from the Inspector Gadget). However, these last months, more and more companies are starting to invest in design in addition to just functionality.
And we should keep in mind that we are talking about a watch. It is something very personal, which is with us 24 hours a day and we are constantly seeing it on our wrist. Many people invest a considerable amount of money on a complement that basically tells the time. And why do we pay hundreds of dollars to know time? It is basically because a good watch will accompany us for a long time and it is an important part of our image.
That has become increasingly important in recent months, where several companies begin to offer smart watches with a very interesting design. Certainly, the best known is Motorola, which is going to launch the first smart watch with circular dial in the coming weeks.
Kairos is the proposal of a small start-up that has developed a hybrid mechanical and smart watch that not leaves anyone indifferent. The Kairos has an elegant and classic look, with circular dial and manufactured with premium materials. It also has a TOLED screen (transparent color OLED), which allows us to receive notifications from our smartphone while still seeing the watch below.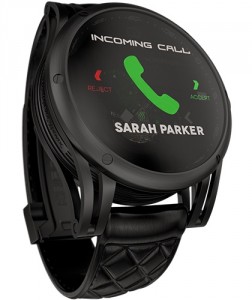 The smart watch runs its own operating system, capable of connecting with Windows Phone and iOS, though the company has announced that some models will soon be available with Android Wear.
The Kairos can receive all types of notifications, whether text messages, e-mails, incoming calls, etc. We can also configure different apps on our smartphone to send notifications to the watch, so we are able to integrate a variety of applications such as Facebook, Twitter, Whatsapp or LINE among others. We can also use the Kairos to control the camera or the music player, and we can also monitor our physical activity.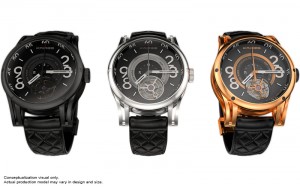 The Kairos smart watch is available in English, French, Spanish, Russian, Arabic, Chinese, Korean and Japanese. It will be two models manufactured, with different kind of movement. The MSW 115 is equipped with Miyota Japanese Movement, while the 158 SW comes with SWISS Movement from SOPROD.
A watch is supposed to be with us for a long time, so the company has already provided an upgrade system so we do not become out of date. At the time we want to improve the specification of smart watch (processor, memory, etc.), we can send him to the manufacturer and, for a small fee (about $ 100), it will come back as new.
The Kairos is currently available for purchase in pre-order, and the first units are scheduled to be shipped in December. As an introductory offer, all models have between 50% and 60% discount. The offer is valid until July 1, and these days, while the offer stands, we can get one for a price ranging between $ 499 and $ 1,199.