Jolla announces its first tablet
The Finnish company Jolla has announced its intention to build a tablet for the second quarter of 2015. A year ago, they released their first smartphone based on the extinct Nokia N9 and running the Sailfish operating system.
The Nokia N9 was a terminal introduced in the middle of 2011, and it was the first and only Nokia smartphone running on the Linux-based MeeGo "Harmattan" mobile operating system. However, the project was discarded when Nokia made an alliance with Windows and centered its efforts on Window Phone OS.
When the Finnish company abandoned its participation in the MeeGo project, directors and core professionals from Nokia's N9 team left the company and founded Jolla Oy to continue the legacy of the N9. Jolla developed a new operating system called Sailfish OS, based on the core and the tools of the Mer (a fork of MeeGo) core distribution.
Jolla intends to use the multi-tasking user interface of Sailfish to differentiate it from others smartphones and gain an advantage against devices that run iOS or Android.
Jolla smartphone is a mid-range handset with a low resolution qHD (960 x 540) 4.5-inch display, an 8 MP camera, 16 GB of memory and microSD support. Now, the Finnish company has launched a crowfunding campaign to make a second device, in this case a tablet.
The tablet will be manufactured Jolla with specifications very similar to the Nokia tablet recently introduced, the Nokia N1. Jolla tablet, will also have a 7.9 inch screen with 2048 x 1536 pixel resolution, a quad-core Intel processor, 2 GB of RAM and 32 GB of internal memory.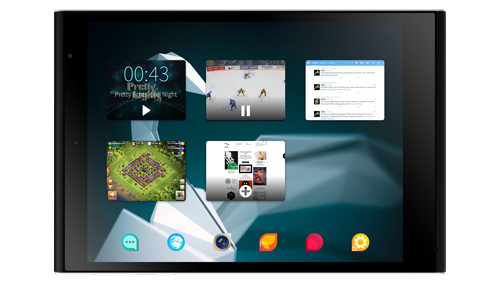 As the smartphone released last year, Jolla highlights Sailfish ability to do multitasking, something much more interesting to do in a tablet. It is compatible with Android applications and will go on sale for a pretty reasonable price, hovering around $250.
At the moment, the campaign launched in Idiegogo has already raised nearly a million dollars in its first day. You can find more information about the project on Indiegogo.
Source: TheVerge.