Jelly: The world's smallest 4G smartphone with Android Nougat
Jelly is the world's smallest 4G smartphone with Android Nougat, and it's available on Kickstarter. It is a 2.4-inch device with 2 GB of RAM and Android Nougat. A new crowdfunding project that comes directly from China.
Jelly is a smartphone other than the usual as it is the smallest 4G device that integrates Android 7.0 Nougat. Unihertz, a company based in Shanghai, has designed Jelly, the perfect smartphone to be used when dimensions make the difference. It therefore seems to be a convenient device when you can not use a standard-sized device that is growing ever more.
The device was designed in two versions: Jelly and Jelly Pro, proposed at about $ 79 and $ 95 respectively (the retail price should grow a bit). Of course this product is not meant to completely replace the classic smartphone but to offer a good solution for a secondary phone, for a device to use during training, running, climbing or other special conditions, while providing Android versatility with the Google Play Store.
Some specifications you can find inside Jelly and Jelly Pro are: quad-core processor at 1.1 GHz, 1/2 GB RAM (Standard model and Pro), 8/16 GB ROM (Standard model and Pro), TFT LCD display, Android 7.0 Nougat operating system, dual nano SIM, GPS, gyroscope, front camera of 2 megapixels, rear camera of 8 megapixels and, as we said, 4G/LTE networks support.
Jelly – Secondary smartphone with all you need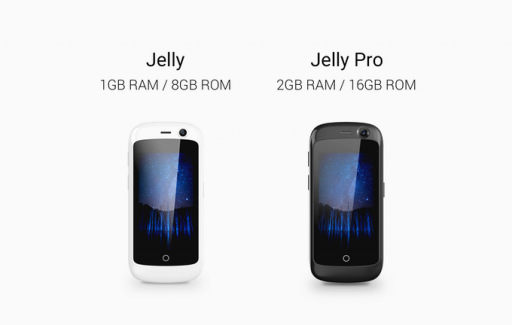 We don't have more information than the one provided in Kickstarter about the internal hardware for both Jelly smartphones, so we have no idea of the chipset chosen. The battery will have a capacity of 960 mAh and the display will have a 240 × 432 resolution. The difference between the Standard model and the Pro in conclusion is in the memory cut. The first one will have 1 GB of RAM and 8 GB of storage memory, and the next instead 2 GB of RAM and 16 GB of internal memory.
For those who are not satisfied, the smartphone will have two sensors that will not be really special, but not as bad and we could imagine at first glance. As mentioned, the operating system will be Android 7, an updated version of the green robot already present on many top of the range. All you have to do is wait for the development of the project by Unihertz and see if it will actually come to market soon. At the moment they get $ 294,428 of the goal of $ 30,000.