Ingress, when fiction becomes reality
Ingress, when fiction becomes reality
Ingress is an augmented reality game that has been gaining popularity worldwide. The idea of the game is simple: two factions fight for the control of the planet's energy. When you register the game you have to choose a side (Enlightened or Resistance), and from that moment you will be a kind of secret agent working to provide the necessary energy for your faction.
To conquer an energy portal for our side, we must physically go to the place and scan it with our mobile device. And that is not all our work, since we have to periodically go back to the place in order to do some kind of 'maintenance', or the portals and lands we have conquered will eventually turn back to neutral areas, or what is even worse, they may fall into our enemies' hands. Portals can be joined together to create virtual regions belonging to one side or another. To join two portals, we must physically go to each one, but the connection will be broken if someone from the other side claimed a portal that is between ours. That makes that a new player can disassemble an important strategy followed by the opposing faction.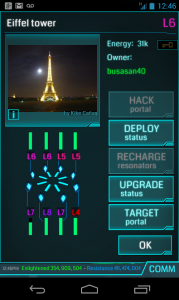 So, cooperation and social relations are highly important, as we need to ask for help to other players when we are out of our city for a while, or we can lend a hand when we are travelling to other lands.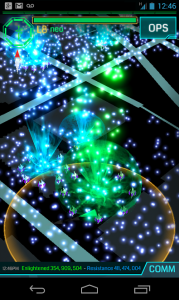 In November, Simulacrum published the results of a demographic survey among Ingress players. Some results were curious, as the admission by 16% of users to have breached any law to play (maybe they left a car parked in some forbidden place or sneaked into a park once the doors were closed to claim a portal).
Ingress is developed by Niantic Labs, and can be downloaded for free at the Play Store.