Huawei develops technology that charges a battery to 48% in 5 minutes
Watt Lab, a company owned by Huawei, has developed an impressive and new battery technology for the Chinese brand, which promises a full charge in just 10 minutes. Yes, you read well, in just 10 minutes is now possible to charge a battery of 3000 mAh, according to Huawei.
According to Huawei, of course, the company has joined hetero graphite molecules located at the anode of the battery, which could become a catalyst for the capture and transmission of lithium through carbon bonds, which in simple words is translated into the speed of charging the batteries has increased, without going to the detriment of useful battery life or the energy density thereof.
Thus, Huawei hopes that this advance in technology fast battery charging lead to a true revolution in the world of electronic devices, specially designed for smartphones, handheld devices and power supplies for mobile devices. Currently has not been given a date for the market launch of the new technology of Huawei, but this is undoubtedly a quantum leap in terms of the revolution of mobile devices, technology we expect to see soon to prove its benefits.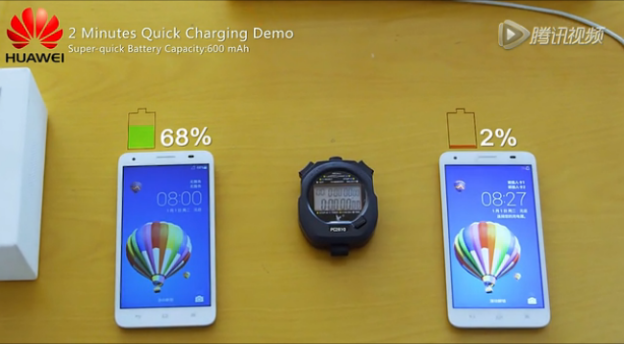 It is not surprising that Huawei think this technology developed for lithium-ion batteries can be a revolution in the technology industry and electronics. At the moment it is still unknown when it is coming to market and when Huawei phones would be capable of use this ultrafast charging. Nevertheless, we are particularly excited to see such progress that can conceive important advantages in our day to day and how we use devices like the smartphones.
The company has also created a similar battery much less, of 600 mAh, which is charged by 78% in just two minutes. Both batteries require a special charger. Huawei is not the only company working on mobile fast charging. Qualcomm recently announced that next year some chips will incorporate fast charge mode, thanks to which some phones can be charged up to 80% in 35 minutes.
Huawei develops technology that charges a battery to 48% in 5 minutes