How to remove and reinstall applications on Windows Phone
How to remove and reinstall applications on Windows Phone
It is advisable to remove the applications and games that we don't use and don't want to keep. Thus, we can free memory, since it is not only the application but also all the information it contains that is removed.
To remove an application or a game on Windows Phone, we must go to the list of applications or games we find at Home and hold on the app or game we want to delete. The uninstall option, after the confirmation, uninstall and delete the application selected and all the information associated with it.
The removed applications can be reinstalled at any time, although we have lost the information that they might have contained when we eliminated them. We have two ways to reinstall a deleted application: we can do it from the Marketplace or from the Windows Phone website.
If the app or game was free, we can go to Marketplace, find the app we want and install it again. In case of paid apps, we go to "Buy". When the confirmation window appears, we will see a message informing us that we had already bought the application and offers us the possibility to install it again.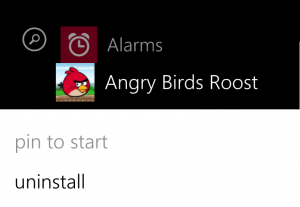 We also have the option to reinstall deleted apps or games from the Windows Store. To do this, we use the web browser to access the store and go to the "My Phone" menu which is located at the top right of the screen.
To retrieve the purchased applications we must log in with the same user account that we use on our phone. Once inside, we can view our purchase history, where we will see all the information relating to the apps and games bought. If we look for the app or game that we are interested from the list, we will see the option to install it again.