How to pair a Windows Phone using Bluetooth
How to pair a Windows Phone using Bluetooth
Bluetooth technology allows the transferring of voice and data files between nearby devices, creating small wireless networks. This technology has many applications today, from transferring files between devices to use the hands free kit on the car.
Whatever the application you want, the first step is to pair our mobile device with the other device we want to connect. Let's see here the steps to pair the two devices, and thus create the necessary wireless network to transfer data files.
The first step is to activate the Bluetooth on both devices and make sure it is in pairing mode, so they can see each other. In the case of Windows Phone, we can activate it by clicking the Bluetooth option that we can find under Settings menu.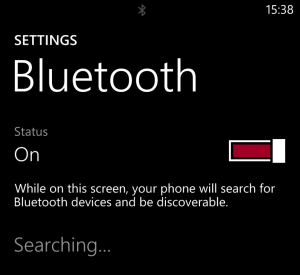 Once enabled, Windows Phone automatically searches for other devices available via bluetooth and it will appear as available for other devices to connect. When the smartphone has identified the Bluetooth devices that are within the reach of the network, they will appear in a list, where we can select the one we want to pair with.
When we select the device that we want to connect, in some cases, we need to match a PIN between them. Once we confirm that this PIN is correct, the devices pair and we can exchange files between them.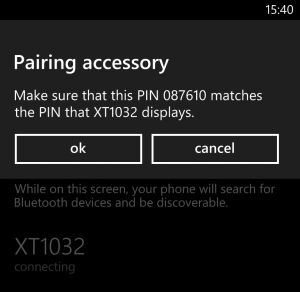 If we want to use a Bluetooth headset, the steps are the same, and when the Bluetooth is enabled, it will appear in the Bluetooth devices list. Thus, we can use a hands-free or headphones to listen to music or we can pair the phone with the car's stereo to play the music stored on the phone with the car speakers.
In addition, we can activate the Voice feature of Windows Phone from the "Voice" option of the setup menu. The Voice application allows us to make and answer calls, launch applications or send a text message. This application is the perfect complement to hands-free and it can be very useful if we are driving and need to interact with our smartphone.