Hangouts 4.0 for Android to compete with WhatsApp and Facebook
Images of Hangouts 4.0 for Android have been leaked with what will be the next major update of the Google app, showing an aspect that is pretty close to what WhatsApp offers, the great "enemy" to beat in the mobile instant messaging market.
This images come from AndroidPolice, where we see a version still in development, but it serves to give us a complete picture of where Google wants to bring its instant messaging application, and how wants to compete with WhatsApp, Facebook Messenger or Skype. Hangouts receive a complete facelift with its next version, 4.0, doing some progress removing items to clean the interface and fully embracing Material Design.
While not a radical change, this is noticeable. The new Main Menu screen of this Hangouts 4.0 does not have tabs or buttons, only we see the recent conversations. Of course, if we have Hangouts Dialer installed, it seems that the company will give users the option to decide whether or not to have VoIP calls over your service. Also we see the characteristic floating button that will display a small menu of shortcuts to contacts, new groups and video calls.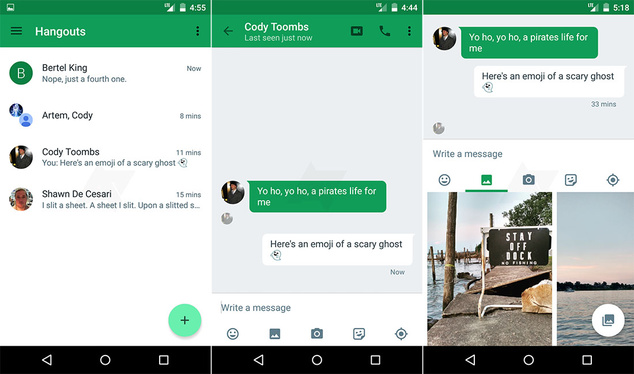 A new element is now the tab "Anyone else?" that appear next to each contact when we are in a conversation and encourages us to start a group conversation. Within the talks, it has also been removed toolbar with the trash or notification button, instead, pressing the options we now have the ability to remove or control notifications. Instead of icons that appeared so far in the top bar, and the muted conversations, black text perfectly suited to Material Design replace the striking red notifications indicating that a conversation is muted, now disabled. The new design shows a more discreet banner that warns that we have turned off alerts and a new aesthetic in the talks, with more rounded graphics, which have been reversed colors, that is, now those in white are the ours and those with a more marked, strong shading are those of our contacts.
Another important development is that from now on we can update our state from the mobile application, which until now could only be done from the desktop version. Regarding the chat screen, the most important thing on these applications, it has also been modernized to better use the space. Moreover, our avatar has disappeared from the conversations (appearing the other participants profile pictures in the conversation), while incoming messages appear in dark green and yours in white, distinguishing them quickly. In addition, sending files and other items will be much faster, because instead of a clip that displays a menu we will have a bar with different options.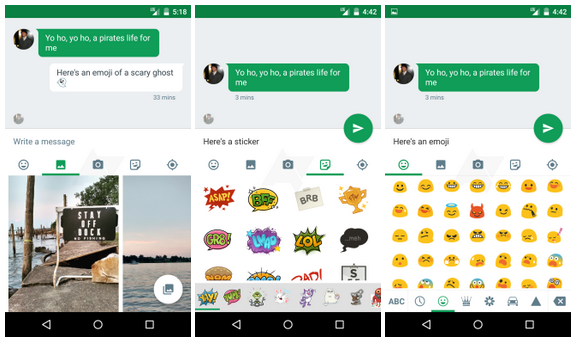 Following the news they will also be moving to establish a state for our profile, something that could be done anywhere but not in smartphones, but perhaps more interesting is the new way to share files. Instead of the known clip that was used to look for something to give our contact, we now have a series of icons from the outset that presents text we are writing and allow us to send emoticons, choose or take a picture, send stickers or our location.
Also, if we activated Hangouts to control our SMS, next to the room to write, just press the icon of the application of Google we can select the method by which send that message, whether by IM or SMS messaging. Finally, and this is something that looks like it is on the "must" of Google, Hangouts 4.0 does not have tablet mode, simply extending the interface for smartphone without solutions as a split screen or something similar.
Hangouts 4.0 for Android to compete with WhatsApp and Facebook