Great update to Talon for Twitter
Great update to Talon for Twitter
In the last months, Twitter clients have gained a lot of popularity, partly due to the high quality that some of these apps offer. With this idea, a few weeks ago debuted a new Twitter app that aims to be among the best.
Talon provides constant updates and right now it has just been released the version 1.3, with a lot of improvements over the beta versions that were available until now. Talon is designed with the idea of a high level of customization, and allows you to configure every conceivable aspect of a client for Twitter. It also allows two accounts, something very useful when wanting to manage two easily and quickly.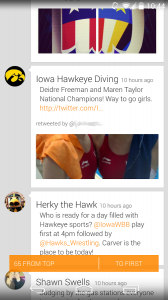 It is structured according to a columns' design, like other Twitter's apps, but besides the usual 3 column style, Timeline, mentions and direct messages, it also has a column for the tweets with images and another one for the tweets with links, acting as a filter for this kind of messages.
Tweets' management is highly optimized. When we open a tweet, we can see all the important information without the need of an external browser. We have a rapid reply at the bottom and sliding to the right we can see the entire conversation.
Talon is highly valued by users and is experiencing an incredible growth. However, Twitter does not allow competition become strong, and it has a limit on the number of accounts these apps can use. Some of them can easily run out of tokens (number of accounts), and its growth freezes. It is too early to say what will happen with Talon, but for now it is a great app that you can find on the Google Play for only $1.99.
You can find more information in the web developer's website.