Google Play and YouTube has received important updates
Google Play and YouTube just received important and expected updates. Google Play is receiving an update to version 5.1, which brings a lot of new features, including a new "My Account" section.
This section allows you to manage your purchases and change the payment method in a simple and practical way. It also includes the ability to pay via PayPal, which could not be done with the previous versions.
In this new "My Account" section, you also can see your purchase history so that you have direct access to the list of apps, music, movies and books you have purchased through the Play Store.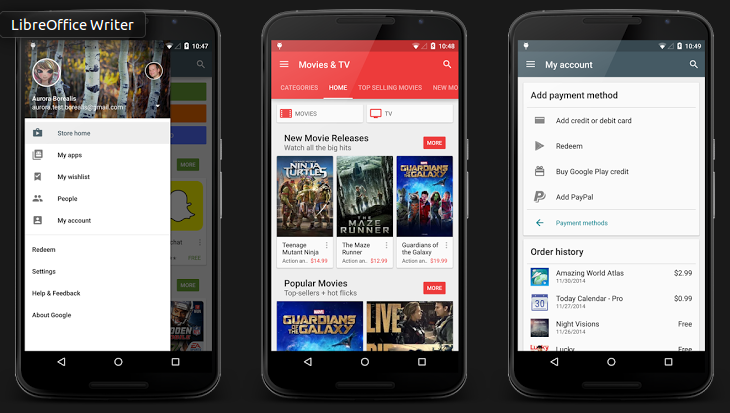 You can also find a new sidebar, where is included the section "My Account", with a more practical design that the one displayed in earlier versions.
To check if you have already installed this version or you are still working with the previous one, you just need to access the Settings menu and check the build version. If you still don't have the 5.1, you can either wait for the update, which should happen in the next few days, or you can directly install the APK file.
On the other hand, YouTube is also getting an update. The new version brings YouTube's Material Design. The version 6.0 includes the typical characteristics that could be expected of Material Design, as circular avatars and a new bright red theme with a completely white background.
Besides the design, we also find that the searches have been improved thanks to the new filters that the version 6.0 incorporates. And of course, we also have the new icon, which follows the style of the new Google's icons.

As in the case of Google Play, you can wait until the update arrives to your device or you can directly install the APK file directly.
To install APK files, remember that you need to activate the option to install files from "Unknown sources", option that you can find in the "Security" submenu, under "Settings" menu.
Source: Droid-life, AndroidPolice.