Gboard is the keyboard that integrates Google searches on Android
After the release took place only a few days ago for iOS, the revolutionary keyboard Gboard, that integrates Google may soon arrive on Android, which means that the millions of green robot devices are about to exploit important technical characteristics.
The Gboard keyboard made by Google for iOS and available for a few days for the iPhone and iPad differs from classic Mobile keyboards for the presence of an important integration with the Google search engine, allowing you to search for content, images and even without using emoji app third party: having to write such a WhatsApp message to a friend, pointing to the place where to meet, simply type its name on Gboard to pop the card directly above the keyboard, and select it to include all the data in the message, no more oblige us to exit the app messaging, open the browser, look for the local and then copy the link to paste into message: everything will happen in an extremely faster way.
Surely the fact that Google has decided to release a keyboard so revolutionary first on iOS than on their Android devices aroused a little curiosity, but soon things could change: as announced by Bri Connelly, the current Project Manager of the Android division, the Gboard or a variation of it would already be in the thoughts of the development team: "Working on the best way to bring the same functionality to Android right now!."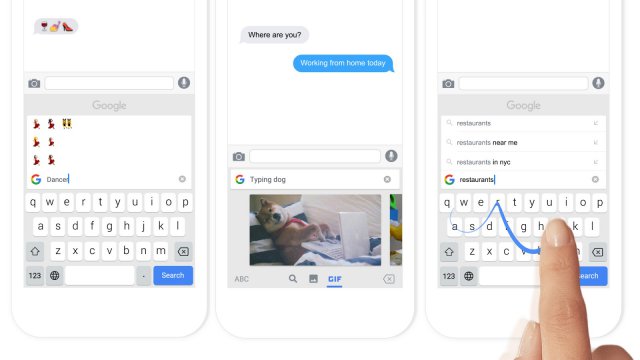 For the moment, Gboard is available only in English, but mostly only for iOS, and many Android users have felt somehow "abandoned" by Google, since Google is the owner and developer of Android. But even if Google did not specify the time, Connelly made it clear that the app will soon also be available for the most popular mobile platform in the world, adding that it will support also multilingual: "Everything is due to the fact that the provision of the dictionaries on the keyboard requires the time to be implemented."
The fact that Google has wanted to debut its "keyboard with built-in search" on iOS before Android makes sense from a purely commercial point of view: Android users are naturally inclined to do Google searches anyway (every smartphone and tablet Android has on the home screen this search icon), but this is not so obvious on the iPhone and iPad. Hence the decision to bring first on iOS a keyboard that can facilitate the research on its engine. That said, Android users will not, however, wait for it for a long time.
Gboard is the keyboard that integrates Google searches on Android