Galaxy Note 7, consumers replace 13% of Samsung smartphones in USA
In the US only 13% of people who own a Galaxy Note 7 replaced the device. It is explained by the site Cnet, which contains the statements of Tim Baxter, American Manager of Samsung. Throughout the devices distributed in the country were 1 million, 130 thousand ones came back after the recall. The South Korean company, according to the site, reported that the replacement will be available at the sales points of the country by September 21.
The device was taken off the market in September 2 in 10 countries, which have occurred due to the incidents of battery explosion. The American Committee on Consumer Protection has made it known that they have over 92 batteries overheating incidents recorded to date in the US. Of these, 26 have caught fire and they caused damage to cars and homes.
So far, around one million Samsung Galaxy Note 7 have some kind of claim. According to the Korean manufacturer, it is extremely important to stop using your smartphone if it was bought before September 15, turn it off and replace it by following its calling program. Despite the recall and precautions, as reported by Reuters, Samsung Electronics will resume sales of the new smartphone for customers in South Korea from September 28. The company stated that the return of the device in stores in other markets will depend on individual cases. Sales in Australia will resume from the beginning of October.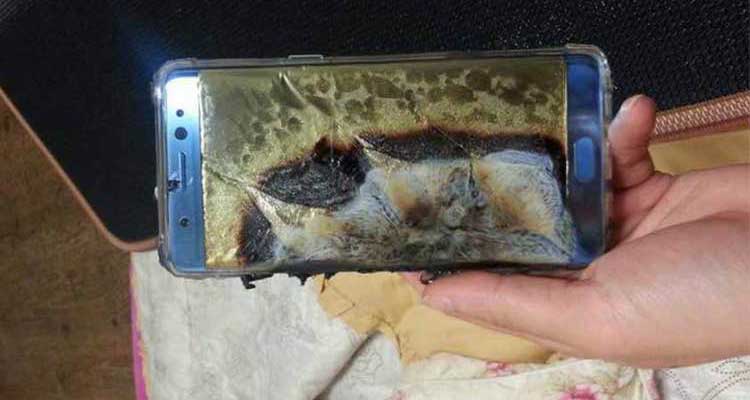 But in addition to the Samsung Galaxy Note 7 other Samsung smartphone would explode according to several reports. According to a man from Florida his Galaxy S7 would explode during charging the battery in his car. According to another report a Galaxy S4 would be exploded in the hands of a 6 year old child. And many other reports things with which we do not want to bore you further. Well, the Consumer Commission of the United States of America (US CPSC) stated that it was investigating the incident happened with the Samsung Galaxy owners.
We could then find out soon if all these reports are just coming from people seeking attention or if in fact there are many Samsung smartphones suffering from serious problems to the battery. The manufacturer states that the only problem concern the present Samsung Galaxy Note 7, and denied the existence of problems with many other models.
Galaxy Note 7, consumers replace 13% of Samsung smartphones in USA