A free strategy game, Greed for Glory: War Strategy
A free strategy game, Greed for Glory: War Strategy
Greed for Glory is a strategy game in which we have to build a kingdom from a small village. It is set in a fantastic medieval world, with wizards and dragons, where we try to make our people prosper while defending them from the enemy attacks.
Like other games in the same style, we need to obtain resources to raise the buildings and improve the kingdom. To do this, we will need iron and gold mines, which we can use to build other structures. To ensure the defense, we also need the training barracks where we can train archers, knights and wizards for our army. As we grow, we will send armies to close cities and neighboring kingdoms, where we can sack them, conquer territories and expand the reputation of our kingdom.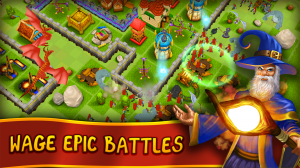 Greed for Glory is based on a simple system of resources, where we will have iron, gold and diamonds. The first two can be obtained from the mines that we have built, and they are used to construct and improve both buildings and troops. Diamonds, however, are used as a hurry-up currency to increase the speed of events. We can eliminate the waiting time required for building and training with diamonds, but obtain them is not easy. A small amount of diamonds can be found among the spoils of the cities' sacking or they can be part of the reward of missions we have achieved, but if you really want to speed up the game, you will need to buy them in the form of in-app purchases.
The best strategy is to ensure a good defense, and it will allow us to successfully go through the 52 missions included in the game. And we shouldn't neglect the arms innovation, which will give us a point of advantage in battles.
Although the game is free, it offers the possibility to skip some time buying diamonds, but you can play well without them. You can download Greed for Glory: War Strategy from the Play Store.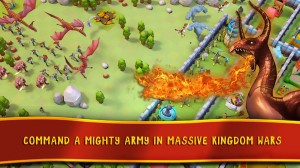 Source: GameZebo.