Facebook began testing the possibility to manage SMS from Messenger
Facebook would have decided to launch a deleted operation three years ago and that is the integration with SMS. The Social Network had, in fact, offered to Android users the ability to receive and send text messages through Messenger but then, due to poor adoption, this feature was removed.
But now, things could change. A small group of Facebook Android users would begin to retest the opportunity to manage SMS directly from Messenger. In future, therefore, Facebook Messenger can become more like Google Hangouts and allows you to manage text messages in place of the original smartphone messaging client. Questioned on this discovery, Facebook admitted to be testing the possibility of returning to manage SMS from Messenger to give users a single place through which to communicate.
It is unclear, however, whether this feature will then be extended to other platforms beyond Android. The figure is, however, objectively, that the social network has decided to give a major accelerated to gain a monopoly on messaging. Compared to 3 years ago, Messenger has changed and today has over 800 million users who exchange messages. Focus communications in one place would, therefore, today be a lot more logic than three years ago, since text messaging is on the wane replaced by instant messaging services more comprehensive and flexible as Messenger and WhatsApp.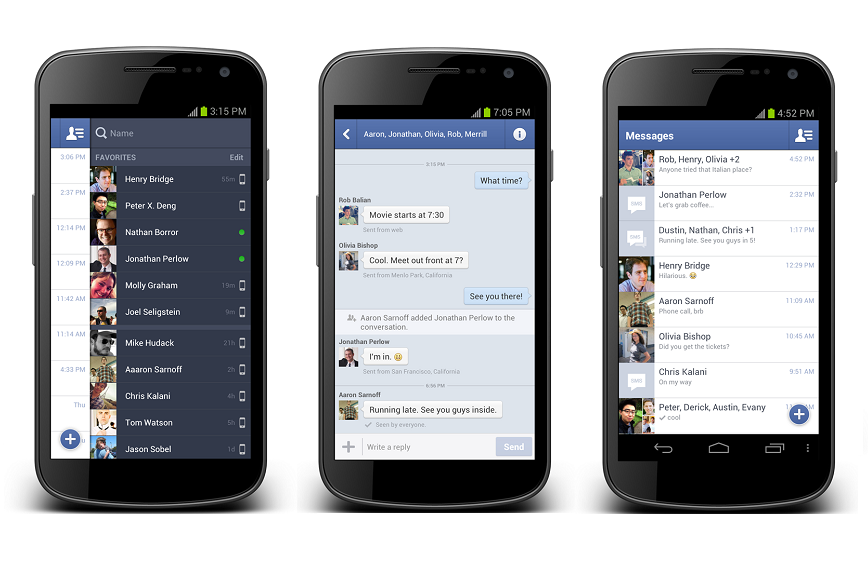 It could, therefore, manage all messages from a unique location may, now, be the right choice. The option to manage SMS through Messenger, will, however, optional and can be enabled/disabled from the settings panel the application of Facebook communication. Apparently, the new SMS box will feature a blue and white bar, in sharp contrast with the white and blue theme present at the time of Messenger.
Whenever you decide to send a text message to a friend, you will be a tool that will allow the user to type a text message. To better distinguish the type of message, text messages will have a purple square, while classic messages are still blue. Finally, Facebook has also announced that it has launched support for multi-account on Messenger.
Facebook began testing the possibility to manage SMS from Messenger