Doze may already be available in your older Android
Doze is probably the most important feature of the new Android 6.0 Marshmallow, especially for users of earlier Android smartphones. This function detects when the screen turns off to the phone, smart, it assumes it is not in use in order to go to "sleep". You continue to receive notifications of high priority, such as text messages and calls, but most of the background synchronization is eliminated at that point, something similar to what Apple has been doing for some time on its iPhones.
The only problem is that the statistics say it's likely that many smartphones with a couple of years or more, will not receive this update. After all, in early November, only about 0.3% of the devices were operating with Marshmallow. But now you can get at least some of the Doze characteristics using an application called… Doze.
What this application does is basically set up a VPN, which is activated when the screen is off. However, it is not technically only a VPN. What it really does is act as a barrier to ensure minimal data usage. The application also has a whitelist where some applications can be configured to synchronize data forever. You can also set it to not come into play when the phone is connected to a Wi-Fi network, because it also has the potential to reduce the use of data. The app also includes an option to not activate Doze when the phone is connected.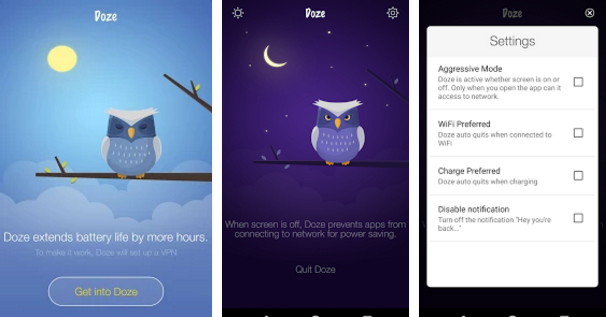 While the application is designed to mimic the real characteristics of Doze, there are plenty of improvements that the developer can add, such as the schedule of when the phone must enter the Doze mode. This also gives users more control because you can choose which applications to add to the whitelist, as well as how long the phone should get into the Doze mode.
The application works on devices running the operating system Android 4.1 Jelly Bean and higher. In percentage terms this limitation is equivalent to most Android devices. This is good news for users who longed to have the features that this application can provide users with older software. Available on Google Play Store.
Doze may already be available in your older Android