Deus Ex GO will debut on August 18 on iOS and Android
Square Enix and Eidos Montreal officially announced the debut date of Deus Ex Go, title created specifically for mobile devices.
The expected spin-off will be available on tablets and smartphones based on iOS and Android as of August 18, taking players inside of a puzzle game of infiltration shift set in the Deus Ex universe stylized interpretation. We assume the role of Adam Jensen, known infiltrated agent, and due to hacking techniques, combat and character growth we will be able to solve the most difficult puzzle of the entire GO saga.
Working alongside the Allies in TF29 and Juggernaut Collective group, players will infiltrate within various locations in order to unravel the conspiracies hidden behind terrorist plans. At this point we just have to wait until August 18, the day when Deus Ex Go will be available on our mobile device and while we remind you that recently the leaders of Eidos Montreal have revealed the minimum and recommended requirements for the PC version of the anticipated Deus Ex: Mankind Divided which will be released on August 23 also on Xbox One and Playstation 4.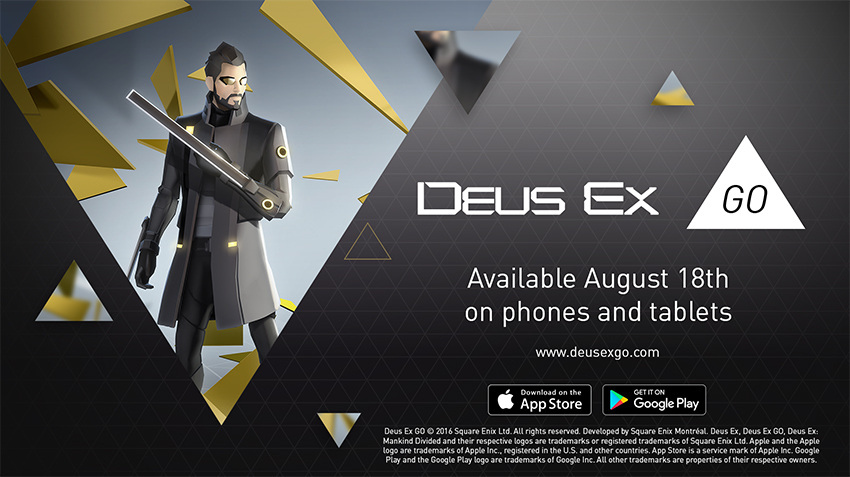 Moreover, these are the system requirements revealed by Square Enix for the PC version of Deus Ex: Mankind Divided. Minimum requirements: Windows 7 operating system or higher (required for 64-bit operating system), Intel Core i3-2100 processor or AMD equivalent, 8 GB of RAM, AMD Radeon HD 7870 (2 GB) Graphics Card or NVIDIA GeForce GTX 660 (2 GB) and 45 GB of available internal memory. Along with No Man's Sky, one the most anticipated games of 2016 (or at least of August).
As already seen in Hitman GO, Deus Ex GO will put you in front of countless puzzles and riddles. With a very fluid and smooth gameplay even if shift. This time you play as Adam Jensen, who will have at his disposal all the skills you've seen in the main games in the series to solve those, and according to developers, they are the most difficult of the GO series.
Deus Ex GO will debut on August 18 on iOS and Android