Countdown to the new Nexus 5 and the Android version 4.4 KitKat
Countdown to the new Nexus 5 and the Android version 4.4 KitKat
– di Pasquale Oliva –
Missing the confirmation, but persistent rumors have predicted that will be next Tuesday, October 15th the long awaited date of submission of the new Nexus 5.It will be produced by LG and mount the Android version 4.4 kit kat, inspired by the famous chocolate bar produced by Nestlé. Some images have already been spread and they have revealed some details about the new device. Substantial innovations are related to the graphical interface, the white icons in the notification bar and new functions, such as we find the new section Tap & pay in the settings. Through this you can make payments via NFC associating your SIM or your Google Account.
As the name Nexus 5 suggests, it will support a high-resolution IPS display with the size of 4.95 inches, mounting the 800 Snapdragon chipset with a quad-core Krait 400 at 2.3 GHz, Adreno 330 GPU and 2 GB of RAM. You can choose between the version of 16 GB of internal memory and 2300 mAh battery (for a price of 299 US dollars, according to the rumors) or the one with 32 GB and 3000 mAh battery (for a price of 399 U.S. dollars). A big step forward compared to the previous version that had a battery of 2100 mAh and it was on the market for $ 299 for the 8 GB version and $ 349 for the 16 GB. In addition, the current indications refer to a build KRS92B and a Kernel 3.4.0.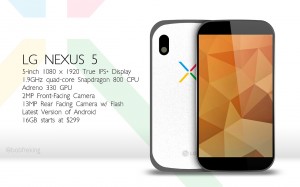 As concerns the design, it will be with a rubber back and comparing the performances it will be lighter and faster than the previous Nexus 4. Will also improve the characteristics of the display, which looks a lot sharper, and the camera (it will support a 1.3-megapixel front-facing camera and a 8 megapixel rear main camera with LED flash and OIS). You just have to wait a few days to reveal other secrets of this new jewel.