Cortana is now officially available for Android and iOS
After months of announcing, Microsoft's personal assistant, Cortana, comes to iOS and Android. While most phones already have Siri and Google Now as personal assistants, Microsoft came a little late to the party to present its personal assistant Cortana, the assistant to the famous Halo series that now accompanies all Users of Windows 10 and wants to be the assistant of all smartphones.
Microsoft launched the final version of Cortana for iOS and Android today; this application was already in Beta a few months ago, but finally the ultimate version was published. Cortana functions and knowledge are not very different actions you can do with Siri or Google Now. It shows you weather information, news, restaurants, events, finance, navigation, packages, reservations, sports scores, travel information and can even record reminders.
All information in your name, favorite places, etc. They will be scored by Cortana in her "book" where it registers your history. In iOS application behaves in a very simple way, simply enter the application and asks what you need and that's all, it's no big deal. In fact, it works similar to Google Now on iPhone, where you have to enter the application to use. Android is where it changes a little bit.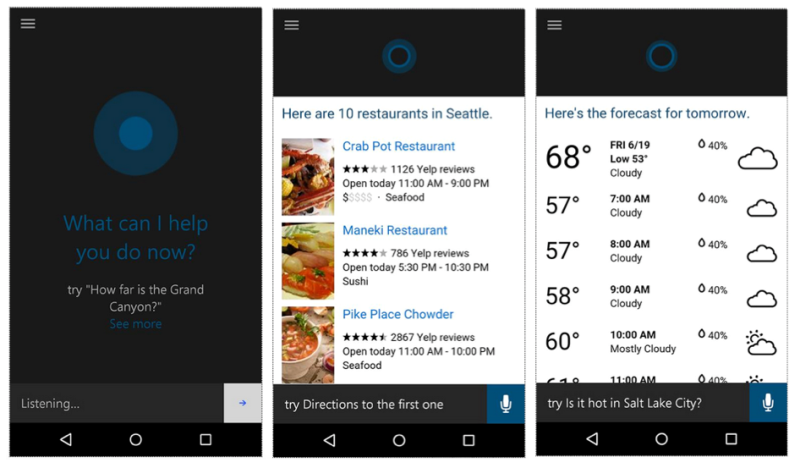 We know that Android is free, but this Cortana platform fight instead of Google Now, as it may do the same to respond with a voice command and even you can replace the shortcut Google Now button home by Cortana, and all your questions will go to her. Cortana is quite envious on Android, including not let you use the microphone in Google Now if you have Cortana on your device, it is very curious.
Unfortunately this application is only available in app stores in the United States, both in iOS and Android. For Android you can download the APK and for iOS it can be accessed with an account in the United States, but the important detail is that only supports English (and Japanese on iOS for some reason), so users from Latin America, Asia and Europe will have to wait for full support of the Microsoft virtual assistant.
Cortana is now officially available for Android and iOS