Busuu, a free learning languages app
Busuu, a free learning languages app
Busuu is one of the best applications available in the market to start learning a new language. Until now, we could choose the app of the language we wanted to learn from the 11 languages available (Spanish, German, French, Italian, Portuguese, Russian, Polish, Turkish, Japanese, Chinese, and English), but since the last update this January, we only need a single app wich includes all the content available.
The app features 20 free classes (5 per course) and access to the community, where we can interact with students from other countries. Busuu has a system where users do exercises to practice the vocabulary and grammar learned in the classes and sent to the network, where a native student will correct them. In turn, other students will receive exercises to check. Each user is a student of one or more other languages and tutor of other (or others), in a virtual community that, since early 2013, 12 million vocabulary exercises through mobile applications had been completed.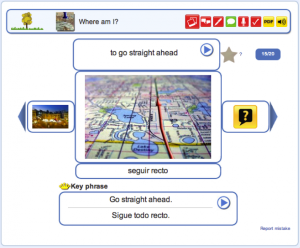 We start with a simple level test that suggest us the right course to start based on our knowledge, and along the lessons, vocabulary exercises alternate with small self-assessment test at the end of each unit. There is a system of challenges and rewards that encourages us to set targets and help us to track our progress. Besides, we can at all times contact with users of other languages for a conversation practice.
The application, like the website, has free and Premium mode. With the Premium version, we have access to more classes per level, audio podcasts, grammar PDF files and no ads, among other things.

Busuu is the largest social network dedicated to language learning and it currently has over 35 million users. You can download it completely free of charge in the App Store and Google Play.