Aster Chevron, the luxurious Vertu smartphone with Android operating system
The Vertu Aster Chevron is a luxury smartphone with titanium frame and 4.7-inch sapphire crystal display, sold in three different colors. Despite the constant changes of companies, British Vertu continues to release luxury smartphones to the market with refined materials.
After a bit of silence, in fact, the manufacturer recently passed into the hands of a consortium from Hong Kong called Godin Holdings that announced Aster Chevron, luxury-smartphone equipped with Android 5.1 Lollipop operating system and available in Black, Pink and Blue variants. Unfortunately, the specifications are not very up to date, as the processor chosen was made more than a two years ago, but the users will buy these "jewels" for other reasons, mainly aesthetic.
Each of the models in the collection is equipped with 4.7 inch display with Full HD resolution, density of 473 ppi and protective sapphire crystal, a Qualcomm Snapdragon 801 processor with four cores to 2.3 GHz, 2 GB of RAM, 64 GB of internal memory, stereo speakers, 4G LTE connectivity, WiFi 802.11 a/b/g/n/ac, Bluetooth 4.0 LE, NFC, a front camera of 2.1 megapixels, a rear camera of 13 megapixels with AutoFocus and dual LED flash and a 2275 mAh rechargeable battery via wireless systems compatible with Qi.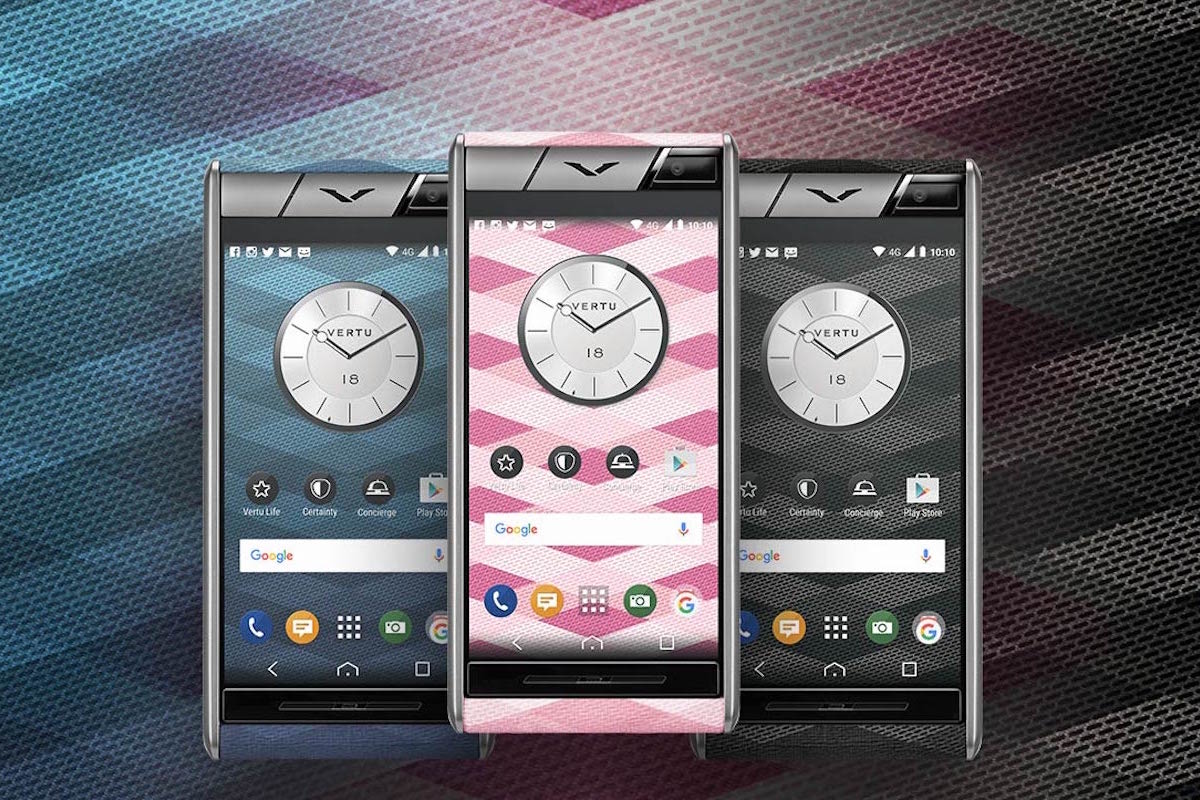 The name "Chevron" comes from the distinctive motif inspired by the logo Vertu, imprinted on canvas of Italian origin. The use of the skin is a staple in the luxury sector, but it is not for everyone. Vertu has always been able to provide man-made materials through the ordering process tailored to those who made the applications. However Aster Chevron has been developed to meet these demands on a much larger scale. At least that's what Hutch Hutchison said, Vertu Chief Designer.
Particular attention has been given to the materials, highly resistant: the sidebands, for example, are made of titanium grade 5 with a satin finish so as to reconcile elegance and durability. The sore point concerns the price: those who want to "wear" this smartphone will have to pay the modest sum of 3900 euros.
Aster Chevron, the luxurious Vertu smartphone with Android operating system