Angry Birds Go! free on the Play Store
Angry Birds Go! free on the Play Store
Everyone knows Angry Birds, the popular mobile game series that has earned a deserved reputation as one of the best free online games that has appeared on the market. Rovio has just released a new version with a Mario Kart style, called Angry Birds Go!
It is a racing game focused on the fun at the expense of any kind of realism. The well-known birds and pigs in the classic saga are racing here with all kind of vehicles in different thematic circuits. Along the route we will find throwing weapons, the characters have exclusive powers and every vehicle has its own peculiarities.
The controls are simple: left, right and special power. It's simple, it's fun and it's highly addictive. It has a timing Candy Crush style, with an energy system that decreases with each race and only recharges over time or with a micropayment.
So far so good.
Now the bad news. While the game is simple and fun, the energy limiter totally takes your fun away. It also has a fairly invasive ads system that continuously interrupts the game. In fact, they become so annoying that just finally has to make decision to buy a version without ads, or not to play at all.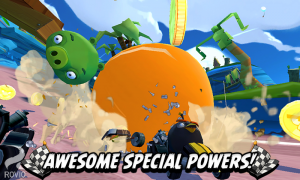 Moreover, the initial possibilities are quite narrow. The starting equipment you hold is very limited, and you need to play many races to have the opportunity to upgrade your car. However, due to time constraints, the process becomes very slow. In addition, many vehicles with special features must be purchased, and are priced between $3 and $50!
Finally, it has some weak points, such as the inability to play online. But anyway, it's a terribly fun game that you can try for free. So just give it a try and download it from the Play Store!