Angry Bird Epic is coming!
Angry Bird Epic is coming!
Rovio is expanding possibilities with its famous birds and pigs. The company continues to bring new games to the market, testing new styles that keep us away from the original Angry Birds. The latest was Angry Birds Go, where the mythical characters race in some crazy circuit, while now it is the turn to RPGs.
The new Angry Birds has game just hit the market for a few lucky players. It is available for iPhone and iPad only in Australia, Canada and New Zealand, but Rovio has announces its arrival to the rest of the world this spring, both for iOS and Android users.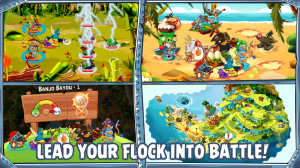 The approach is completely new. In this case, the famous birds and pigs face each other in medieval combats in a kind of RPG adventure. The turn-based battles have a simple but effective control system. We can attack enemies using knights (red birds) or wizards (yellow birds), each one with a different attack and defense systems.
Angry Birds Epic is set on an island, where we will visit all its territory as we go fighting from combat to combat, with the only purpose of defeating the enemy's "army". The game also requires fabricating our own weapons such as wooden swords or frying pans. In addition, we will have improved potions and weapons, both in attack and defense.
This is a free game with in-app purchases. You can perfectly play without any checkout but we can also pay to acquire certain benefits that the free version doesn't offer. We can buy upgrades, pay for new weapons or revive our team after a defeat. We need to wait to know how these in-app purchases affect the dynamics of the game, since Angry Birds Go had enough criticism for the amount of advertising during the game offers.
More information at Epic Angry Birds' website and Rovio's blog.
Source: Pocketgamer.