Android Instant Apps are now available to all developers
After a four-month test phase that allowed Google to improve its user experience, Android Instant Apps are now available to all developers who will be able to build and deploy their applications.
First tests conducted with selected partners have led to excellent results, with sales data being doubled for some developers.
Developers now have a number of tools created thanks to the feedback of the first testers. Just download the latest preview of Android Studio 3.0 and Android Instant Apps SDK.
Therefore, it will not be necessary to change the work environment and developers will be able to immediately begin to be productive. On average, it will take 4-6 weeks to develop an instant app, although the timings may change depending on the kind of app.
You will then need to use the Play Console to load the instant app APK and the installable version APK. With Android O, which Google released the first beta for members of the Android Beta Program last night, instant apps will enjoy dedicated support and integration in the launcher.
Find more information on the developer page, from which you can also download Android Studio 3.0 in Developer version.
Android Instant Apps. How it works?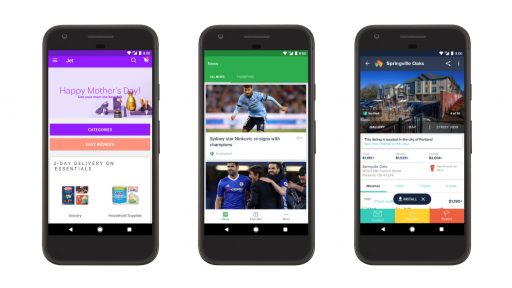 Starting from the browser, the user will just have to tap the link to be catapulted within seconds (just the time of a short initial download) within a real Android app. The following downloads occur only if and when needed, and when the Instant App is released, the memory in use is immediately released. To benefit from this news will be large companies such as airlines, ecommerce platforms and news and entertainment sites, but also small businesses such as restaurants and businesses that can offer their potential customers a more captivating and easy to navigate experience.
The guidelines are dictated by Google and the task can be hard, but at the same time brings unbelievable benefits: attracting thousands of users within your app becomes infinitely easier since it will no longer be required to install anything. At the moment, smart apps and Instant Apps are compatible with smartphones and tablets with the Android OS's Marshmallow or Nougat versions, but Google is working to expand compatibility with phones with Android Lollipop.