Android distribution May 2017: Nougat grows (and Gingerbread too)
Like every month, Google updated to May 2017 the statistics of the spread of various versions of Android, photographing a rather stable situation compared to April. Fragmentation persists.
The biggest thing to note is the growth of Android Nougat, up from 4.9% last month's share to 7.1% today (considering both version 7.0 and 7.1).
Marshmallow has remained fundamentally stable and getting closer to kick out Lollipop from the podium of the most popular version: 31.2% versus 32% (combined between Android 5.0 and Android 5.1). So, overtaking could already take place by the start of the summer.
Regarding the remaining distributions, KitKat loses more than a percentage point to 18.8% from the previous 20%, followed by Jelly Bean's distribution that leaves behind another full percentage point, down to 9.1%, summing all the various minor releases.
But the most strange and almost hard to believe. Gingerbread, which should now be close to disappear, has gained 0.1% over last month, standing at tha same percentage point.
It is difficult to understand what the reasons have led to this growth, as long ago it has no business with Gingerbread smartphones. In any case, Android Nougat grows, especially in version 7.0, which ranges from 4.5 to 6.6% this month.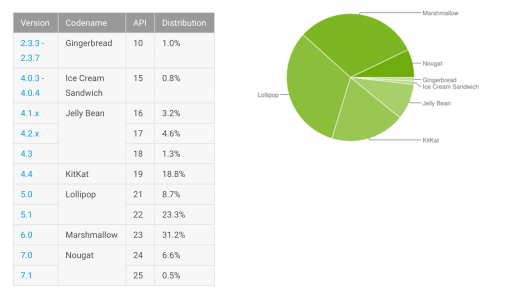 So, the 7.1 version of Android is virtually stable, ranging from 0.4 to 0.5%, confirming that manufacturers prefer to switch to version 7.0 of the green robot. Marshmallow and Lollipop divide the first position by collecting 31.2% of Android users while KitKat dropping, down from 20 to 18.8% and Jelly Bean, which stops at 9.1%.
Nougat's growth is confirmed, while all other versions are dropped with just one glamorous surprise featured by Android 2.3 Gingerbread, which not only does not fall, but grows even by 0.1%. Ice Cream Sandwich closes the ranking that is still on 0.8% of Android smartphones and seems willing to stay in the charts for a long time.