Android 7.1 Nougat is confirmed as maintenance release
We have already seen that it is quite likely (but unconfirmed) that to Android 7.0 Nougat would follow a version 7.1, maybe even full of exciting features currently missing. As reported by Evan Blass (also known as @evleaks), it can be confirmed, and not only 7.1, but a real release plan of minor updates that will gradually introduce a large number of features.
Google recently announced the release of Android 7.0, code-named Nougat. The new version of the operating system of the green robot brings with it many new features but, as described by network users, still it lacks some interesting features that are likely to see the light with the next update version that is Android 7.1 (and that can also fix some problems with the battery).
Google, with the advent of Android Nougat, announced that its mobile operating system will receive maintenance updates every three months, and now Evan Blass, @evleaks for his followers, further "confirmed" the idea of a future first relevant update, followed by the following two minor updates, all with the following roadmap: 7.1 > 7.1.1 > 7.1.2. Thus we can only wait for the official confirmation by Google about the weight of the next version of Nougat, and we can not help but imagine how tasty can we expect Android 7.1 Nougat to be.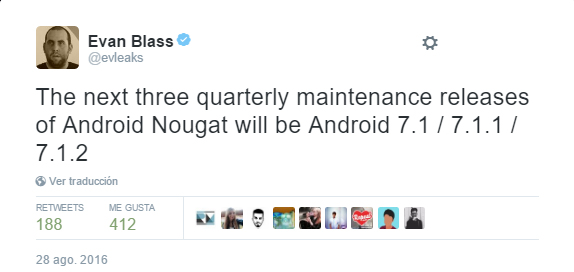 Google's strategy is clear, the company wants to offer its users the best possible user experience and at the same time encourage the widest possible distribution of the new versions of its mobile operating system. The fragmentation of Android is a big problem that Google has begun to deal seriously only recently, and we hope this time could solve all the problems still with us.
The mobile industry is constantly evolving and users are demanding more functionality, more and better user experience and performance. If Google listens to their users, it is obvious that the results are there for all to see, so the operating system can become even bigger in terms of number of users.
Android 7.1 Nougat is confirmed as maintenance release