Android 7.0 Nougat Final Developer Preview available for download
The real update process to install Android as a new major release of the operating system will take later this summer, as emphasized by Google in the post with which announces the availability of the Android 7.0 Nougat Final Developer Preview. It is, specifically, the Developer Preview 5, released just over a month from the previous year, and available to users who have chosen to participate in the Android Beta program.
The new Developer Preview is the ultimate goal of the preview series, as Google said, confirming that it is a version able to offer a sufficiently faithful view of what will be the final version of Android 7.0 Nougat, of course, in its "stock" way and without the customization of individual manufacturarers. The new Developer Preview 5 carries the final API (API level 24) of Android N, the latest updates introduced in the interface, bugfixes and optimizations of the operating system and pre-installed apps.
Google does not enter into more detail of the corrections and the introduction of improvements, but, turning to developers -the main target audience for the Developer Preview versions of Android- confirms that by using it, even through the special emulator, you will have a direct feedback on the the app compatible with all the new APIs and functionality of Android 7.0 Nougat (Doze improvements, optimizations in the background, screen zoom, changes to permissions, multi-window support, improvements to notifications, direct boot, new emoji, etc.).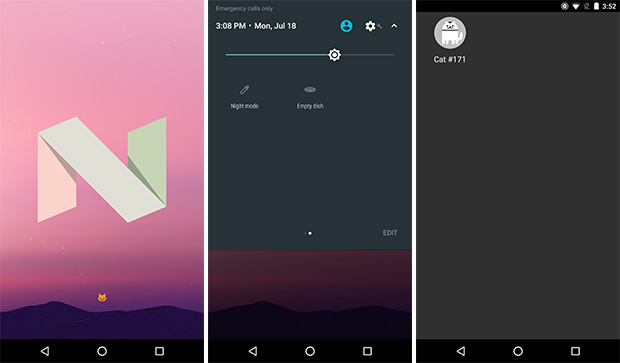 Who is already part of the Android Beta program will automatically receive the upgrade to the Developer Preview 5 over the air. Remember that it is always possible to become part of the Android Beta program, which allows you to receive the operating system tests. But you can also download and install the update manually via the factory image for your specific device. Just go to the developer android webpage to download the factory image available for Motorola Nexus 6, LG Nexus 5X, Huawei Nexus 6P, HTC Nexus 9, Google Pixel C and General Mobile 4G.
The Android 7.0 Nougat Developer Preview 5, although very close to the public version of the operating system, must still be considered a preview release, and as such, may have bugs and instability of varying severity. The appointment with the stable version is generally set at from late summer with timing that will vary depending on the specific model eligible to receive the update.
Android 7.0 Nougat Final Developer Preview available for download