Adobe Reader Android app has been updated
Adobe Reader Android app has been updated
Adobe Reader Android app has another update ready. In Android there are many options to read documents, despite of the format they might have. PDF is one of the many formats available, but it's the most widely used and Adobe Acrobat is well known worldwide. Everybody knows PC version of the software, and probably most of you already know the Android version. The differences between the two versions are obvious but, Adobe Reader Android is getting better every day. And this update introduces some interesting features (most of them are free!).
The update covers the basic thing for free but includes some interesting advanced features which have to be purchased from within the app. The update also modifies the app's file browser, which looks now more up to date. You can now access to the different options from the Action bar. This updated Adobe Reader Android app also has multi-window support on devices able to work with it, such as the Galaxy Note 3.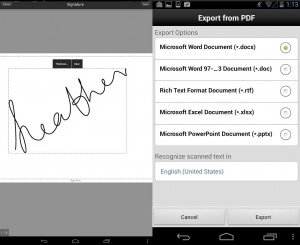 Among the free features, we can find options such as copying, pasting, and renaming files. The possibility to upload files to Adobe.com has also been included. The options available to purchase are Adobe PDF pack and ExportPDF, which let us convert documents into PDFs (supported formats: doc, docx, xlsx, and rtf) and vice versa. Regardless of whether you wish to create PDFs, Adobe Reader is still a well-known option for reading them.
These are the new features included in this update: • New and modern File Browser • Posibility to acces online for Adobe Reader • Purchase Adobe PDF Pack and Adobe ExportPDF services from within Adobe Reader • Convert images and documents to PDF using Adobe PDF Pack • Adobe ExportPDF to export PDF files to Word or Excel • New and improved Text Search using snippet views • Multi Window support for devices that allows it • Improved performance for x86 devices
You can download the app form the
Play Store
.