12.9-inch Apple tablet for 2014
12.9-inch Apple tablet for 2014
It is highly possible that next year Apple is going to launch a new big tablet, with higher resolution than the current iPad Air. One of the main criticisms to Apple's Retina-display tablet is the resolution. The iPad Air went on sale with a 2048 x 1536 pixel resolution, what it means 264 pixels per inch. It's not a bad resolution by any means, but neither is an outstanding feature, especially if we compare it with devices like the Kindle Fire HDX, which has a resolution of 2560 x 1600 and 339 pixels per inch.
Things are going to change, as the rumored 12.9-inch iPad Pro could be the first tablet to be released with 2K and 4K displays. This means that a 4K iPad Pro would have an impressive resolution of 4096 x 3072, higher than UHD TV currently on the market. An increase in the screen resolution is critical if Apple really want to release any device with 12.9 inches.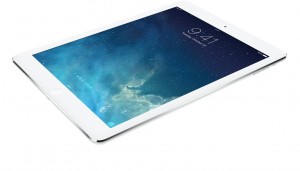 Several rumors have been speculating about the near approaching of this big device. iPad Pro could reach the market on 2014, although probably it will be available with the two resolutions. Supply chain sources have suggested an initial April launch for a 2K version and a 4K model available in October. Apple's interest in a large tablet is not new and the rumors have been circulating for the last few months. The name "iPad Pro" appeared after Apple presented the iPad Air, suggesting that it may be transferring its Macbook naming system over to its tablets.
Samsung is pressing hard on this tablet range, as it's expected to launch a 12.2-inch tablet early next year. The rumored Galaxy Note 12.2 would have a screen resolution of 2560 x 1600, following the specifications of the last released Galaxy note 10.1 2014 Edition.
Source: TechRadar.