Root Sony Xperia Z2 Tablet
REVIEW Sony Xperia Z2 Tablet
Sony Xperia Z2 Tablet is the big brother of all Sony Xperia models presented at the last Mobile World Congress in Barcelona and the Tablet high end model with which they hope to compete in this market.
Processor:
Qualcomm Snapdragon 801 2.3GHz quad-core.
Snapdragon is the platform for tablets, smartphones, smartbook devices and smartwatches created by mobile technology company Qualcomm. 2.3GHz are high wave amplitude, while the four cores (or quad-core) processors are reflected in the ability of processes that can perform in a given time. It means that it makes four times more processes than a single-core processor and is 75% faster than the S4 Pro. Power with asynchronous energy control.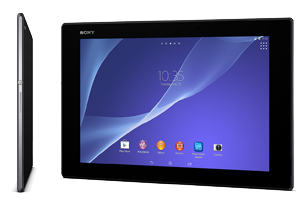 Display:
The Xperia Z2 Tablet has a Triluminos IPS FullHD 10.1 inch screen with resolution 1920 × 1200.
It's a tablet with a large screen, the same size as virtually all his rivals, but with less HD resolution X-Reality image engine in comparison. Includes LED Live Colour, the technology used by Sony to give greater depth and color gradation
Storage:
16 / 32 GB, expandable up to 64 GB with MicroSD card.
Storage memory is what is called PC hard drive. In this case the 16 GB memory storage capacity to expand up to 64GB by adding a microSD card the phone represent a similar capacity comparing to the other tablets with such as big screen.
RAM:
3 GB.
In RAM are loaded all the instructions that processor executes, so the more GB you have the better. In this case Sony Xperia Z2 Tablet RAM is above average, and this makes it very powerful.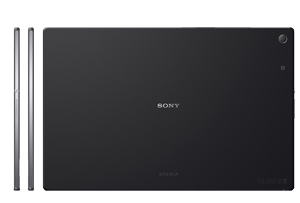 Camera:
It features 8 megapixel rear camera with Exmor RS and 2 megapixel front camera.
Sony Xperia Z2 Tablet camera is quite similar in terms of size to the concorrence, but stands out for its sensor Exmor RS capable of taking pictures with little noise, even in low light conditions.
Connectivity:
4G, NFC, Wi-Fi 802.11 a/ b/ g/ n/ ac, Bluetooth 4.0 and One-Touch function.
These are all the types of connections it supports. 4G indicates that this mobile uses a system and a fourth-generation network, converging wired and wireless networks, including Wi-Fi or Bluetooth. With One-Touch you can enjoy and share on other devices what you want from your Tablet.
In addition to these features, Sony Xperia Z2 Tablet has a 266 × 172 × 6,4 size; it's water-resistant and dustproof; it is a bit lighter than competing models (439g); it has a 6000mAh battery and features the Google Android OS.
In short, Sony Xperia Z2 represents a great success in terms of resolution, camera and screen, but it has excessive frame and we will have to wait and see what is the battery performance, it doesn't seem enough in relation to its other features.

How to root Sony Xperia Z2 Tablet
Backup your device to make sure to not miss important information before rooting the phone.
Unlock Bootloader before proceeding to flash kernel.
Download kernel image.
Save the boot.img file in the folder containing fastboot binary.
Flash the boot.img file using fastboot. Type code: fastboot flash boot boot.img
Reboot the phone from fastboot. Enter the code: fastboot reboot
The phone should boot then.
Once you have flashed the kernel, download the SuperSU update.zip file available in "Download sources" section at the end of this article. Save it to the SD card of the device.
Reboot into recovery mode.
Flash SuperSU update.zip.
Reboot in recovery mode in the OS.
Download

Check if your Sony Xperia Z2 Tablet is rooted correctly using our app "How to ROOT".
Download Android USB Drivers app

Download sources
---
Remember, you must ROOT your Android device at your own risk.
Other important informations to read before rooting
Source
Legal conditions
Hexamob is not responsible for any damages caused directly or indirectly by a rooting method. Any action for rooting your device is done it only under your responsibility.
We recommend that you read all the instructions related to each root method and follow them step by step as indicated by the developers. If you have any question or need support, on every page there are links to the developers of each method.
Android rooting method Sony Xperia Z2 Tablet