How to root your Android smartphone with Magisk Manager
Magisk is a root manager developed by topjonhwu, based on phh's SuperUser, indeed based on the CyanogenMod root manager. The advantages of Magisk Manager are really numerous, and the package installs very quickly.
Magisk is a systemless interface, a tool that allows you to make changes to your system (eg gain root privileges) without altering the partition/system. So using this the device will not be altered, allowing for example the use of some apps that would not work with classic root.
Really: through Magisk Manager, you can override the control of Google SafetyNet, which checks to see if the partition/system of the device has been modified. In this way, apps like bank apps, Super Mario Run and Pokémon Go will work regularly. Obviously, there are cases where Magisk may fail, for example in a Custom ROM that has many modifications, or using apps and modules that turn on SafetyNet anyway.
However, the app works fine on both Custom ROMs, such as Lineage OS, and ROM stocks. The package includes an executable, which in this case does not alter the system partition, but only /data, /cache and the kernel. Actually, the Magisk Manager app manages the root settings and keeps the system updated.
In this guide we will see how to install and configure it correctly. Remember that this app is useful even when your device is already rooted, so we will distinguish two cases: the one where your device is already rooted and the one where you do not have the root permissions (the truly important).
Magisk Manager – Root & Universal Systemless Interface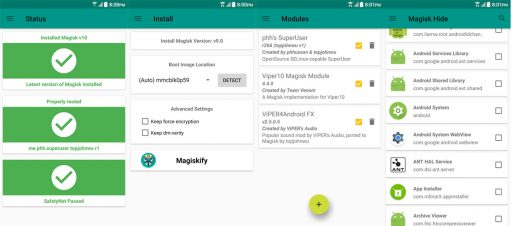 Requirements:
Bootloader unlocked.
TWRP Recovery 3.0.2-0 or higher.
Android 5.0 or higher.
Remove any form of root. Make the unroot from the SuperSU app. In the AOSP Custom ROM disable the root from Developer Options.
Restart in recovery TWRP.
Installation Guide:
Method 1 – Rooted device:
Follow this method if you are using the device already rooted through MagiskSU, Magisk phh's SuperUser (not original), or Official Systemless SuperSU.
Install the latest Magisk Manager.
Install/update Magisk as notified in the application.
Restart.
Method 2 – Non-rooted device:
If you start from a non-rooted device, or there have been problems flashing Magisk Manager:
Restore the boot image stock.
Download the latest version of Magisk.
Put the downloaded .zip file into your phone's memory
Restart in Recovery.
Flash the Magisk installation package.
Restart and install the Magisk Manager from the Play Store.
In case of problems (should not be), go back to recovery and flash the Magisk Uninstaller package to remove Magisk.
Settings:
In most of the cases, the executable is installed and updated correctly, but in some cases it may not override SafetyNet verification because of the previous changes. If SafetyNet recognizes the root, making the apps that use it work, then it is advisable to run a hard reset, reinstall the ROM, and continue using Method 2.
If the executable is not installed correctly or if you want to upgrade it, go to the Install section and tap Download and Install. Just prompted, restart and the root will work correctly. If problems still persist, the firmware or Android version of your device is not supported.
Functionality:
Magic Mount: Allows any modification to the system without real alteration of the partitions.
MagiskSU: Open Source Root Solution. Device rooted with MagiskSU, based on phh's Superuser.
Multiple Entry-Points: Enhances Magic Mount by providing system access points for any script at any time of restart; include "post-fs" a.k.a. "Cache" Mode, mode executed before /data is mounted.
Magisk Manager: App used to manage downloaded modules and Magisk, but also the MagiskSU root.
MagiskHide: Hides Magisk on other apps and security systems, such as SafetyNet.
ResetProp: Allows you to make any changes to build.prop, even in read-only mode.
Integrated Busybox.
Download
Check if your device is rooted correctly using our app "How to ROOT".

Download sources
Remember, you must ROOT your Android device at your own risk.
Sources
Ads
Legal conditions
Hexamob is not responsible for any damages caused directly or indirectly by a rooting method. Any action for rooting your device is done it only under your responsibility.
We recommend that you read all the instructions related to each root method and follow them step by step as indicated by the developers. If you have any question or need support, on every page there are links to the developers of each method.