How to set up parental controls on Android
How to set up parental controls on Android
It is inevitable that children have access to new technologies, and our mobile devices are no exception. To avoid accidents, it is advisable to set up some kind of parental control on our devices, so we don't need to worry when our children play.
We have several options to choose from, depending on the device we have and the version of Android we use. The simplest case is to set up a tablet with Android 4.3 or higher, since in that case, you can create restricted profiles.
How to create restricted profiles
If we have a tablet with Android 4.3, we can add multiple user accounts on one device. We can use one of these accounts for our children, restricting access to certain applications and content.

To add a new account, we must go to the "Users" menu found in "Settings". Here we can create the account, set permissions, and add a password for our account. Now, when we run the tablet, we have the option of accessing to the restricted account or enter our own password-protected account.
How to restrict purchases on Google Play
If we don't have Android 4.3 or our device is not a tablet, then we can't create multiple accounts. In that case, it is a good idea to at least restrict the purchases we can do on Google Play, especially if the games we have include in-app purchases.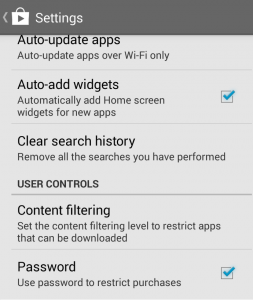 In the setup menu of the Google Play you can activate the option "password". Thus, whenever we make any action involving a purchase, we will need a password to do it.
In the same menu there is also the option to configure a "Content Filtering ", allowing us to limit the applications depending on the level of maturity we have chosen.
If you really want a good parental control we need to install some specific application, like Kids Zone Parental Controls or Kids Place – Parental Control.