How to take a screenshot with Android Wear
Screenshots with Android Wear was a fairly complex task until now. The latest software update has greatly fixed this issue, and now we can capture screenshots in our smart watch with a couple of gestures.
To take a screenshot, we have to use the corresponding app on our smartphone. Within the Action menu, we can find the option to take an image from our smart watch.
First of all, however, we need to enable developer options in the smart watch. If this option is not selected, we won't see the option to take a screenshot. To do so, we can follow the detailed instructions on how to enable developer options on Android Wear.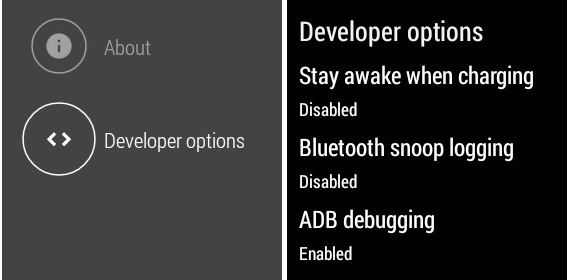 If you have already done it once, you just need to remember to access the "About" menu and repeatedly press the "build number" until a message appears confirming that the developer options have been enabled properly.
Enabling these options will give us the oportunity to perform all kinds of actions in our smartwatch, such as unlock the bootloader, root the device or install a new ROM on the device.

In any case, once developer mode is enabled,we can access to the corresponding smart watch app on our mobile phone. In the app, we can now see the option to take a screenshot.
After taking the picture, we will receive the notification. If you tab on it, we will have the option to share it in the accounts we have configured on our smartphone. Interestingly, we don't have the option to save it, neither in the smartphone nor in the smart watch. That is likely to improve in future updates, but for now, we at least have an easy way to take and share a screenshot.
Source: Droid-life.