How to reboot into safe mode in Android
Rebooting into Safe Mode in Android is very easy. Let's see here how to do it and in which situations it may be useful to do so.
Currently, we have a lot of applications installed on our smartphones and tablets. Most of them are safe and they used to work fine, but occasionally, we might find some app that interferes with the normal operation of the device.
There are two main reasons to have this problem. The app may simply not run properly on our device, either because the Android version we use is not fully compatible with the app or maibe the app is not working fine with the model we have. In that case, we can simply uninstall the application and the problem is solved.
However, it can also happen that we have installed a malicious application. We must be very careful when installing apps, and is highly recommended to always use reliable sources to download the files. This is especially important if we install apps from apk files, in which case we should always verify that the source is well-known.
Whatever the reason, when some program interferes with the normal operation of the device, the solution is to uninstall it, and it might require to reboot the system into safe mode. When load this mode, the operating system starts with its basic functions. The only applications launched that are ones located within the "System" partition so that most third party applications will not start when we reboot into safe mode.
How to reboot into Safe Mode
Starting the system into safe mode is very simple, especially from Android 4.1 Jelly Bean. The only difficulty lies in the fact that each manufacturer uses its own method, and all the attempts to unify it have not had much success so far.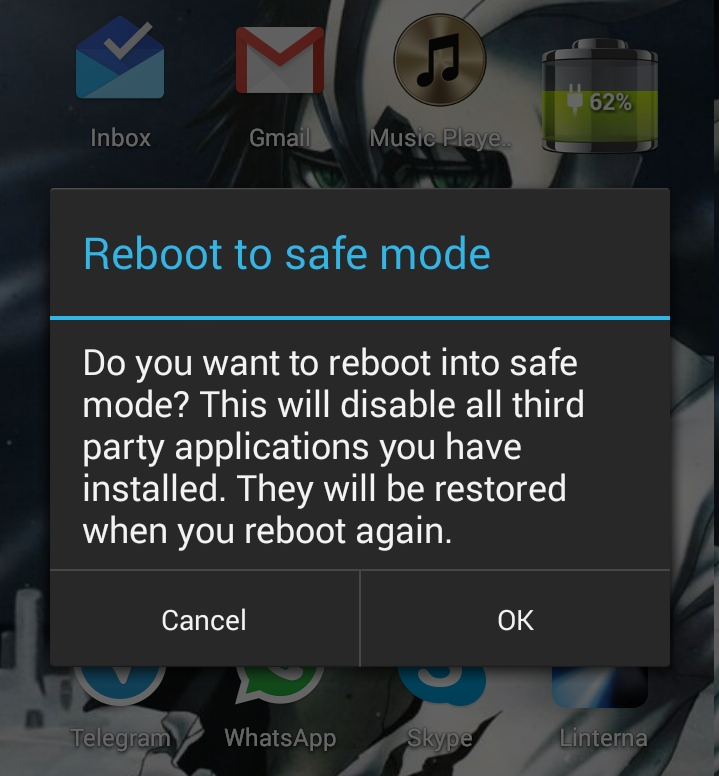 In the models running pure Android, such as the Nexus, Sony, Motorola and some LG and HTC devices, we can reboot into safe mode by holding the power button until the menu appears. Once we have that menu on the screen, we need to hold down on the option to power off until it appears another menu with the option to reboot into safe mode.
With other models from LG and HTC, or Nokia and Samsung devices, we need to follow a somewhat different mechanism. In these cases, we completely turn off the phone, and when rebooting, hold down the volume button to start in safe mode.
Finally, some models of Samsung or Motorola must press both volume buttons to start or also hold the capacitive menu button.
In any case, if a method is not working, you can try others until you meet with the option to start in safe mode. Once inside, and you can uninstall any application that was causing a malfunction in your device.