How to learn languages for free with Android (I)
How to learn languages for free with Android (I)
Speaking foreign languages can open many doors and learning a new language has never been as easy as these days. If we have internet connection, there are a lot of online resources that provide all the tools to learn a language using the methodology that best suits our needs.
Knowing languages is always a plus and it can help us in many practical aspects of our life, from finding a new job to better enjoy our holiday abroad. Going to an academy is a solution that always uses to work, but not always we have the time to attend the classes regularly.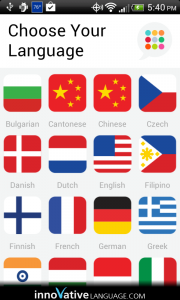 A perfect solution to the lack of time is the method used by Innovative Language. This company offers free lessons via podcasts in 28 languages. With his teaching method, we can learn a language starting from the basics by listening to their broadcasts.
In addition to the recordings, Innovative Language also offers all kinds of supplementary material, from grammar and vocabulary guides to all kinds of cultural information related to the language we have selected. The content we can access varies depending on the subscription we have, but in any case, the basic membership is free and gives access to all the podcasts on the web.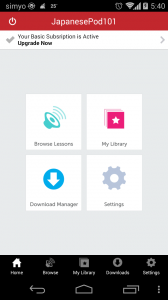 There is an application for Android mobile devices in which we can choose the language that we want to learn and from there, we can select the level we have. Within each level, we find different courses, each formed by a collection of podcasts of increasing difficulty. We will be able to download lessons individually in order to listen them anytime we want without requiring internet connection. Thus, we can download the lessons that we are interested in using Wi-Fi and store them to listen the records whenever we have a free moment, either while we are driving work, while we're cooking at home or while traveling by train.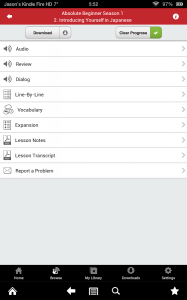 The profile of the app is the same as used for the web application, so that the progresses we make are synchronized on both devices. The app is divided into four sections, Browse Lessons, My library, Download Manager and Settings. The only negative point is that it is only available in English, so we can learn any of the remaining 27 languages if we know English. Otherwise, we can just use it to learn English, in which case it is not assumed that we have any knowledge in that language.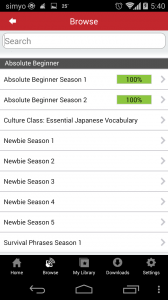 A part of the overall app, and depending on the language we choose, we can install other apps with additional content. We can check the offer on their website. We also have a free trial for 7 days on the Premium app features, which allow us to examine all the content and decide if it's worth paying for any subscriptions available. The app is free and can be downloaded from the Play Store.
More information at Innovative Language.com.