How to change the font in Android
We all like to personalize our devices. It is very easy to change the wallpaper and the way we organize our widgets on different screens. However, changing the font is another issue.
In general, from Android 4.0 Ice Cream Sandwich, Android devices use a font called Robot, which is based in Sans-sherif. This is the font that all smartphones and tablets currently use by default, and we not always have the option to change it from the usual Settings menu. Only a few manufacturers, such as Samsung and LG, offer the possibility to change the font directly from the Settings menu.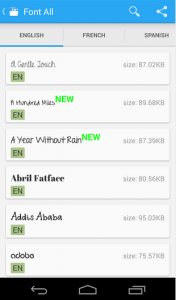 In case we don't have a device from one of these companies or we don't like the fonts they offer, we need to install a specific app that allows us to choose from a list with many different fonts available. The best application to modify the type of font of our Android is IFont. However, this app requires root permissions on some devices. Before downloading it, we can easily check whether in our case we will need administrator privileges or not to use it.
To check if we need the smartphone or tablet rooted, we just have to access to the applications menu that we can find under the Settings. Once there, we have to look for the Flip library fonts. If our device includes this library, then we can use IFont without any problem, regardless if have the phone rooted or not. But if we don't have this library, iFont will need administrator permissions to install another font. If you don't know how to root your device, you can check this guide on how to root Android devices.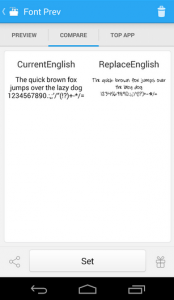 Once we have the phone rooted, it is very easy to use the app. We can download it for free from the Play Store, and once installed, we will see a list of fonts to choose from. Now we just need to download the chosen font and reboot the device for the change to take effect. If we are not satisfied with the result, we can return to the default font or download a new one.
If we like it and want to support the developer, in the Play Store there is also a paid version for 1.42 €.
IFont (free).
IFont Donate (1.42 €).